Why choose moi?
We promise that our products will be of the highest quality and we continuously strive to create an enjoyable and easy shopping experience (such as our 100% free sample kit)! Why choose a lesser quality gem due to costs when you could get a high quality and ecologically sustainable gem for a better price? Why go into a jewelry store to try on rings and deal with pushy or rude salespeople? moi promises to give you the perfect gift and amazing shopping experience you deserve.
Engagement Rings
Our Promises for Classic and Trendsetter Rings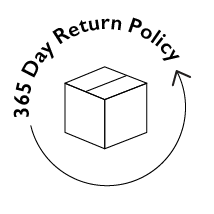 365 day return policy
We want you to be 100% satisfied with your purchase from moi. If you're not happy with your purchase for any reason, you can return your order for a full refund within 365 days of purchase.
See our Returns and Exchanges policy for more detailed information.
Returns and Exchanges policy
Lifetime guarantee
We stand behind our products and we believe that a moi ring should last a lifetime. Every moi ring is covered for life against any manufacturing defects*.
Contact us immediately if you believe your item has a manufacturing defect.
Contact us
Free annual cleanings
All rings come with a free annual cleaning service. The moi warranty covers shipping, cleaning, and inspection costs for moi rings on an annual basis.
We recommend moi rings to be cleaned on an annual basis as professional cleaning helps maintain the quality of your moi ring and inspections may help prevent future damage.
Resize twice for free
As you and your moi ring experience life, we know things can change. One of these may be the fit of your ring. Moi will cover the cost of resizing your moi ring twice anytime during the lifetime warranty coverage.
These requests may be done at any time and moi will cover the shipping, cleaning, and full resizing costs. 
ALL OTHER PRODUCTS
Our Promises for All Other Jewelry
60 day Free Returns
We want you to be 100% happy with your purchase so we offer a 60 day return policy that applies to all moi jewelry (excluding Classic and Trendsetter rings). We make returns easy with free shipping in the continental US with a full refund or store credit towards your next purchase (must be used within 90 days once credit is received).
To qualify for a return: 
• Item(s) must be unworn, unaltered, and undamaged.
• Item(s) must NOT have any personalized or customized inscriptions. 
• Item(s) must be returned within 14 days of the return authorization.
If you are not 100% satisfied with your purchase, please contact us with your Order Number and we will be more than happy to send you a pre-paid label to complete your return. 
Lifetime Guarantee
We stand behind all of our products and believe that they should last a lifetime with proper care and love. Every item is covered for life against any manufacturing defects*.
Please contact us if you believe your item has a manufacturing defect.
*Manufacturing defects do not include wear and tear, or damage due to improper care. Improper service performed by someone other than moi will void the warranty. The warranty covers original purchasers and is non-transferable. There may be additional costs for non-manufacturing defect related repairs if an owner decides to perform these optional services.